Full Time Enrollment Opens in June
Sign up to be notified when enrollment opens on June 3 for the 2024-25 school year.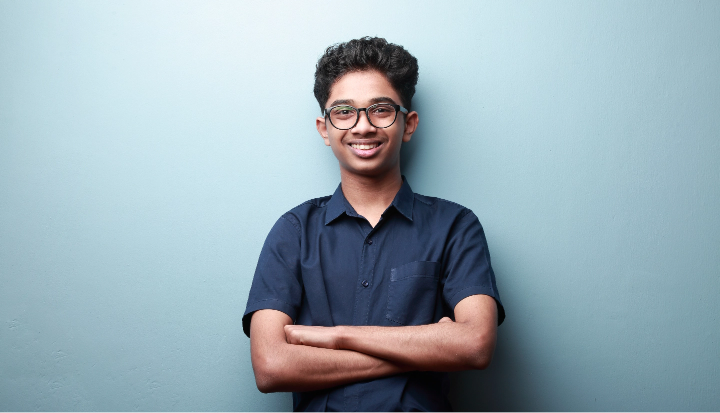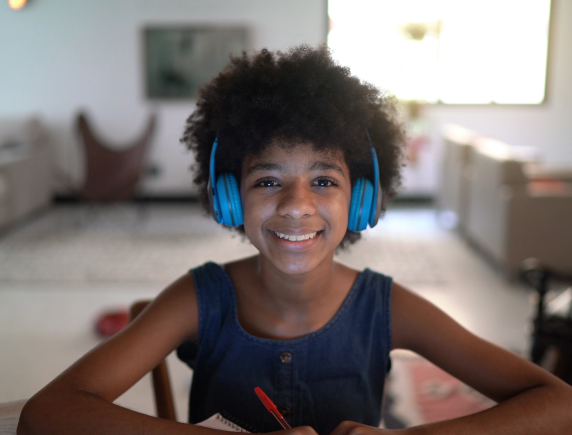 Florida Virtual School is a tuition-free, fully accredited online public school for students in Kindergarten–12th grade. Whether you're looking for a safe, distraction-free learning environment, or a way to balance travel, sports, and hobbies, we offer comprehensive learning that leads to a high school diploma.
What is Full Time?
Full Time school follows a traditional 180-day calendar from August through May and can grant a high school diploma.
A Day in the Life: K–5
Learn more about the schedule and requirements for full time students in grades K–5.
A Day in the Life: 6–12
Learn more about the schedule and requirements for full time students in grades 6–12.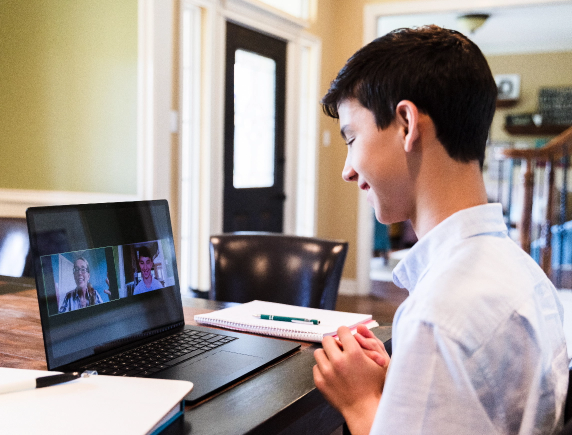 Full Time Student Requirements:
Take all 6 courses through Florida Virtual School while not enrolled in a traditional school or registered as a homeschool student
Participate in state standardized testing
Follow a fixed school year schedule from August to May
Enroll prior to first or second semester
State of Florida diplomas issued by Florida Virtual school when graduation requirements are met
Learn more about each grade level:
Unsure what middle and high school courses to take? The course progression guides below provide recommendations for students in Florida:
Are you a prospective Full Time student ready for graduation?
Benefits of Enrolling with Florida Virtual School
25+ Years
Over the 25 years, students have successfully completed 6 million+ courses.
190+ Online Courses
Students can choose from a wide variety of courses.
1:1 Teacher Support
Teachers build relationships with students over phone, text, email, or video calls.
24/7 Access 365 Days a Year
Students can access courses whenever and wherever they need to.
60+ Student Clubs
There are many opportunities for students to meet peers with similar interests. Clubs are available to all enrolled students. Explore Clubs.
Flexible Schedule and Pace
Students can complete courses on their time and schedule.
Fulfill Graduation Requirements
Students can earn credits towards their graduation requirements.
Full Time Student Records & Policies
Full Time Clubs & Extracurricular Activities
FLVS facilitates numerous student activities and events, both online and in-person. FLVS Full Time staff and club advisors plan a variety of activities, group meetings, and field trips in different locations around the state. View a list of FLVS clubs and our Clubs FAQs to learn more!
FS. 1006.15 allows FLVS Full Time students meeting specific academic and conduct requirements to participate in extracurricular activities at the public school to which they would be assigned by their resident district. In certain special circumstances where participation in extracurricular activities requires attendance in a course, it may be possible for a student to participate in a course or activity at their local school, within the parameters described below. Seeking such permission should be initiated after the start of the FLVS Full Time school year. The parent/guardian's decision to enroll in FLVS Full Time should not be contingent on approval to participate in a course or activity at another institution. FLVS Full Time 6-12 students wishing to participate in extracurricular sports activities within their homeschool district need to meet the requirements set forth in the FHSAA policy 16.3.5.
Full Time Parent/Guardian Expectations
FLVS Full Time partners with parents to ensure student success. Parents regularly connect with teachers and can review student progress and grades at any time. On the elementary level, parents of students are more hands-on and involved in guiding students and assisting with projects or schoolwork that may be completed both on or away from the computer. This on-site supervision and support is critical in the early years, while students in older grades begin to work more independently. Parents also have access to your student's course of study and instructional materials, including the source of any supplemental education materials.
Through orientation videos and tutorials, we make it easy to become completely familiar with our systems. Our program also provides technology literacy courses that allow students to develop advanced technology skills.
Full Time Course Information
FLVS Full Time offers a comprehensive selection of public school courses that fulfill all state standards, including core courses, world languages, electives, Advanced Placement (AP), and Career and Technical Education courses. View our FLVS Full Time courses for a complete list.
The FLVS Full Time curriculum and course content is delivered online. Specific materials or tools that are occasionally required for electives or other courses are specified in the course details when registering.
Yes, all FLVS Full Time teachers are Florida-certified and have undergone an extensive interview, screening, and training process. Teachers and students interact regularly through phone, email, text, and live direct instruction. Students are encouraged to contact their teachers when there is a need of any kind.
The answer to this question varies based on the rigor of a student's schedule of courses, but total hours and effort are comparable to requirements at a traditional school. On average, students in grades Kindergarten-3 will have 20 hours of work to complete per week, and grades 4-12 will have 25 hours per week. There is always a healthy balance between working online and completing offline projects.
Students will need daily access to a computer, phone, and internet. Please check to be sure your computer meets the minimum system requirements. If specific materials or supplies are required for an individual course, these will be listed in the course description. At the start of school, your teachers will outline any other requirements.
Full Time Enrollment
Enrollment typically opens twice per year, prior to first and second semester. Enrollment dates and deadlines are updated on the FLVS website.
We will communicate with you via email once your application has been submitted successfully, and again when your application has been accepted and you become an officially enrolled FLVS Full Time student.
FLVS Full Time is a state-funded public school available at no cost to Florida residents.
Yes, because FLVS Full Time is a public school, federal law requires that it provide students, regardless of disability, with an equal opportunity to participate in and benefit from the school's education program.
Yes! Children of military families who are permanent Florida residents currently residing outside the state are eligible to enroll in FLVS Full Time.
Full Time General Information
FLVS Full Time is an accredited Kindergarten through 12th grade public school that is open to all Florida students. One of several free online learning options available through Florida Virtual School, it offers one-on-one attention and the ability to learn from any location. As a fully online school, FLVS Full Time is all about structured flexibility. It provides comprehensive, full-time, tuition-free online learning for all Florida students. In addition, students meeting graduation requirements are able to earn their high school diploma. The school calendar mirrors the traditional school year following a 180-day academic calendar from August to June, offering a fixed schedule with built-in flexibility for students seeking an alternative to the traditional classroom.
Yes, FLVS Full Time is considered the primary public school of record for enrolled students and issues diplomas to seniors who meet the Florida Department of Education requirements for graduation. As a public school, FLVS Full Time maintains student academic records, providing progress reports and transcripts, and ensures that students meet state requirements.
As a public school district, Florida Virtual School offers a number of different online learning options to students.
FLVS Full Time is a fully online public school requiring students take a standard public school course load of six courses per semester. The school runs on a traditional 180-day academic calendar (August to June) and serves as the school of record, managing all student transcripts and progress reports. It is open to students in Kindergarten-12th grade and issues diplomas to graduating high school seniors. As a public school, it requires students to meet all state testing requirements, including the Florida Standards Assessments (FSA) and End-of-Course (EOC) exams.
FLVS Flex allows students to take one or more online courses anytime during the year. It is open to homeschool students who want to customize their own schedule and curriculum or traditional students who take the majority of their courses at a public or private school.
Florida school districts are also required to offer full-time virtual programs to their resident students. Some local districts use Florida Virtual School as a provider for their program or curriculum. In these programs, the student remains a student of the resident district, must be enrolled with the district, and must be approved by the district to enter the program. These students receive a diploma from the resident district once they meet all state/district requirements. Students enrolled with FLVS Full Time are considered enrolled students of the FLVS district and are required to meet the FLVS district requirements.
Our courses meet all the Florida Standards. All FLVS core courses (with the exception of Liberal Arts Mathematics 2) are NCAA-approved. To see a list of approved courses, visit the NCAA website, enter the portal, and click on the resources tab.