Online Teaching 101 for Florida Teachers Using FLVS
By Devon Dupuis, FLVS HR Marketing Specialist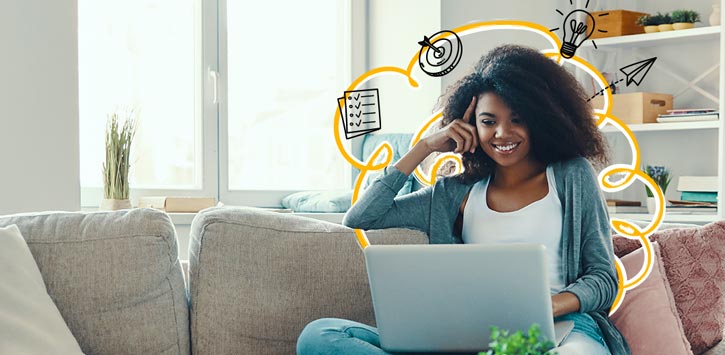 It's understandable when teachers who have spent most or all of their teaching careers in brick-and-mortar schools are hesitant or bewildered by the idea of teaching online. It's a big change.
Do you remember reading that book called "Who Moved My Cheese?"
The whole story is basically an analogy for how difficult change can be and depicts the way different methods of dealing with change produces different outcomes. As Rafiki said, "You can either run from it or learn from it."
Change can be difficult, but if we all approach the online teaching movement together, then we can all help each other succeed.
Let's start by answering some of the most common questions from teachers who are new to teaching with Florida Virtual School (FLVS).
What systems/programs/software do I need to teach online?
While we use many technology platforms and software systems to serve our students at FLVS, our teachers only need to know how to utilize a select few of them. At FLVS, our primary Learning Management system (LMS) is called Educator.
This system houses all student activity including lesson plans, assignments, submitted work, grades, and course-specific email communication. Think of Educator as a large, interactive filing system that keeps everything organized for you and your students. Is this a dream come true for anyone?
Zoom is a video chat software that our teachers use for visual interaction with their students. This technology allows teachers to share on-screen lesson content with students in real time, ask thought-provoking questions, and conduct group discussions.
This virtual classroom setting creates an opportunity for teachers to engage their students and effectively evaluate student progress.
FLVS teachers also use Google Voice for both phone and text conversations with their students. This provides each instructor with a "business" phone number and can be used on both desktop computers and mobile devices.
How do I take attendance online?
One of the unique things about Florida Virtual School is that it meets students where they are and when they need us. This means flexibility for our students in terms of when and where they complete and submit their course assignments. For this reason, our teachers do not take daily attendance or require students to work on their courses at specific times.
Instead, our students often work independently, completing and submitting work according to their various schedules. Instructors use a tool in Educator called the "Usage Log." This provides real-time information regarding the times students last logged into their online courses, how many hours they spent within the course during a given time period, and what activities they completed during that time frame.
For instructors who wish to take attendance during a specified time period for reporting purposes, this log does offer an attendance report option.
Can I still use my original lesson plans?
At Florida Virtual School, all lesson plans and course material are created by our team of highly qualified curriculum development specialists and then loaded into Educator for our instructors and their students. The course material meets state standards and the virtual, self-paced format allows students to have flexibility in their schedules as they learn. Instructors are encouraged to share other beneficial learning resources with their students.
How do I administer tests?
As with all other assignments, exams and tests are built into Educator for our teachers and their students. In order to obtain the password to each exam, the students must first engage in a short oral assessment with the instructor via phone or video. This allows the instructor to assess the students' learning progress, as well as maintain academic integrity.
Still have questions?
Join our LinkedIn group which provides a forum for educators to exchange useful information and share best practices in online education.
All School Districts
For schools outside of Florida, FlexPoint Education is here to help. Whether you need a content provider, teacher training on best practices, or just a consultation to help map out the online classroom terrain, our team of experts can help meet those needs. Our focus is always to maximize learning opportunities for your students and minimize the amount of time that learning is interrupted. Reach out to the digital education consultant for your state for more information.