Let's Be Real. Homeschooling Isn't Easy.
Florida Virtual School is here to help. You don't have to shape your child's education alone. Here you have the freedom to explore 190+ online courses that are available 24/7. Our award-winning courses are expertly developed, and taught by certified teachers. That way, when you need a hand, you've got someone by your side that can share resources and guidance.
Homeschool parents are in charge of their child's home education program, which must comply with Florida Home Education statutes, including annual evaluation requirements (f.s. 1002.41). If you're choosing to fully homeschool online be sure to check all the requirements on the Florida Department of Education website.
Homeschool By Grade Level
Explore our online learning options for Kindergarten-12th grade.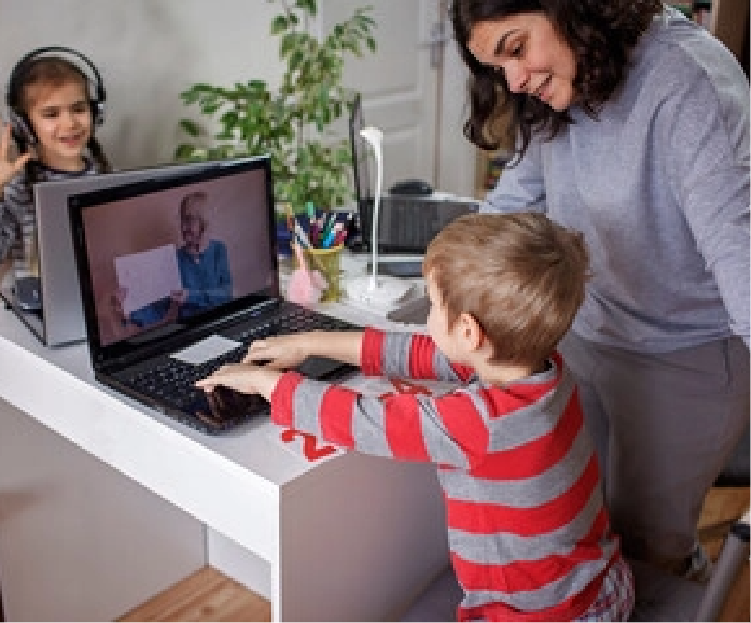 Elementary School
Parents will have an active role in their child's education, along with certified teachers, who provide regular online instruction to students and additional support for parents.
See an example of how your child could progress through our courses.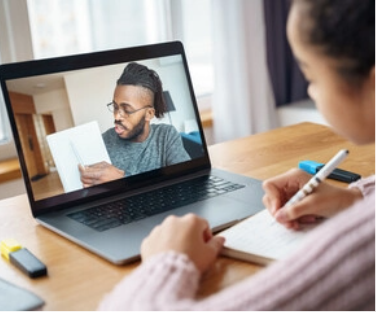 Middle School
While studying core competencies and building critical thinking skills, students have the ability to explore interests and personalize their learning style in a consistent, safe, and supportive environment.
See an example of how your child could progress through our courses.
Step 1:
Register with Your School District
If your child is not currently registered as a homeschool student, you will need to find your district office and contact them to register.
Families who are currently homeschooling should contact their district to obtain guidelines for homeschool students taking our courses. Ask your district about the following:
Student portfolio requirements
Grade promotion information
Yearly evaluation requirements
Instructions to file a letter of intent to homeschool (sometimes called the homeschool verification letter)
Step 2:
Review the Home Education Guide
Review our Home Education Guide to learn more about:
Home Education Laws
Frequently Asked Questions
Course Progression Recommendations and Schedules
Step 3:
Enroll for Courses
When you're ready, browse our course catalogs to select courses. During the enrollment process, you'll select your preferred start date.
Step 5:
Create a Parent/Guardian Account
After the student has requested courses, the parent/guardian will create a parent/guardian account to approve course requests.
For step-by-step instructions, view our registration guides for elementary or grades 6-12.
Step 7:
Start Your Course, At Your Pace
Once a student is assigned to a course, they'll work with their teacher to choose the right pace.
Public/Private School Students
Current public/private school students interested in homeschooling should consult with their public/private school counselor before signing up for Florida Virtual School courses. The counselor will be able to help with the process by advising on next steps, pulling transcripts, and more.
Personalized Education Program (PEP) scholarship recipients must register as "Private School" student type in the Admissions and Registration process.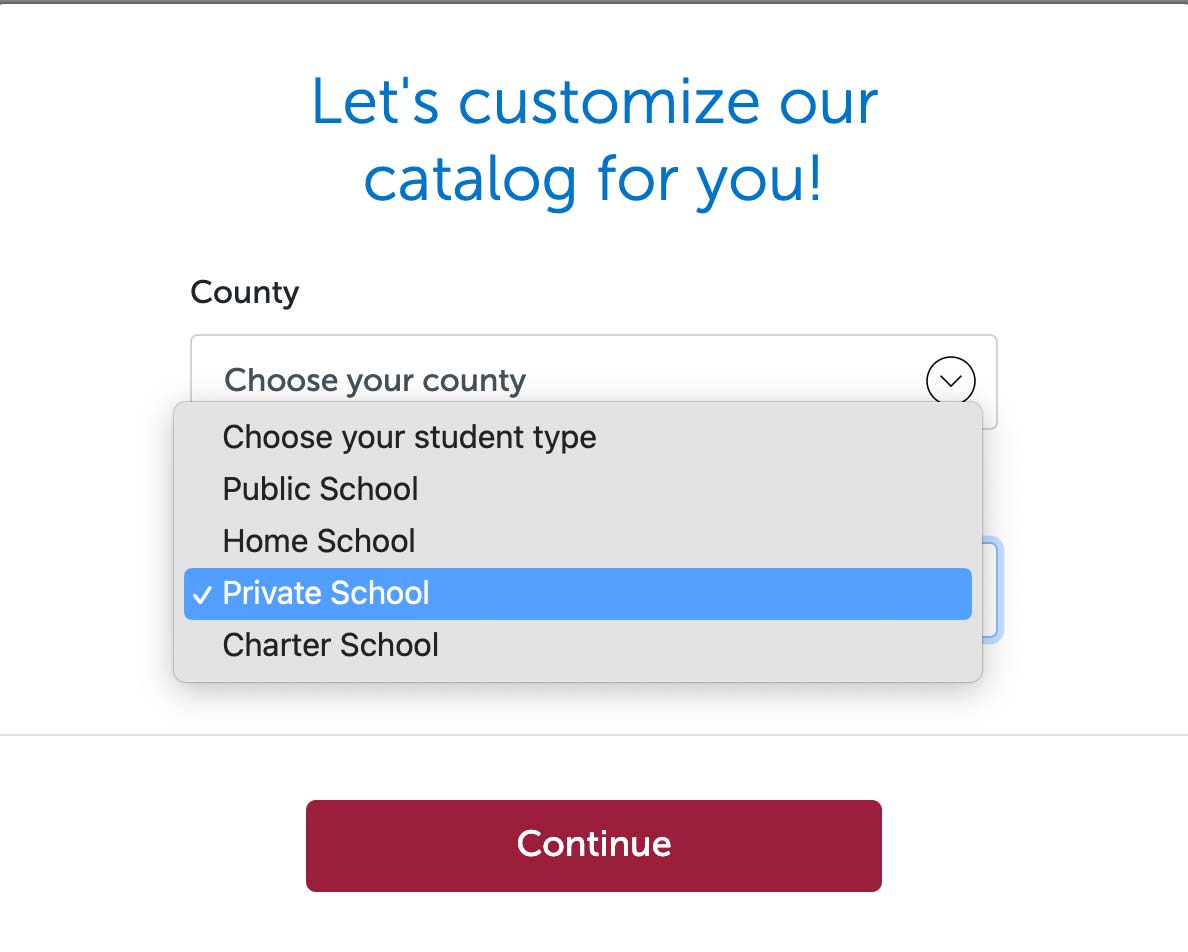 Non-Florida Residents
Students who were previously enrolled in a school outside Florida should consult with a Florida Virtual School counselor for more information about course requirements.
Plan For A Successful Year
View the New to Homeschool Webinar to learn more about home education laws and requirements, course progression, how to create a schedule that works for your child, and more.
Homeschool Frequently Asked Questions
Home educated students, per Florida law, complete a home education program as designed by the parent or guardian. Once the student completes all needed courses, the parent or guardian is responsible for filling out the Home Education Affidavit, therefore attesting that their student has completed high school as a homeschool student.

Homeschool students may choose to fulfill diploma requirements through an "umbrella school" that offers a diploma. Alternatively, some homeschool students may elect to take the General Education Development (GED) test and be awarded a Florida High School diploma from the Florida Department of Education, if the student receives a passing score. Once the test is passed, the Florida Department of Education will send the student a diploma.

Earn a diploma, a home education student may opt to enroll their senior year into their zoned high school or into Florida Virtual School Full Time, our full-time online public school option. Students enrolling into the local public school or transitioning into Florida Virtual School Full Time will be held accountable for all district graduation requirements and will no longer be considered a homeschool student.
Please contact your district home education office. To learn more about this letter and homeschool requirements, please click here.
Parents must verify a student's course request once a selection is made. To verify a request, log into your account and go to the student dashboard page. Click on the green checkmark next to the red "X" icon on the right-hand side of the page to complete the parent/guardian enrollment verification. Students do not have the verification feature within their own account, so you will need to verify all course requests before your student can begin a course. Once parent approvals have been completed, your student will be placed with the next available instructors. Please be sure to have your student monitor their account for placement information.
Upon completion of your Kindergarten – grade 12 schooling, you will need to submit the homeschool completion affidavit. According to State University System (SUS) general admission requirements, homeschool students should submit an affidavit (page 15) attesting that they have completed a home education program including the 4-4-3-3 core curriculum plus 2 consecutive levels of a Foreign Language. This affidavit must be signed by the student's parent or legal guardian.
For information related to the Florida Standards Assessments (FSA), please reference the Florida Department of Education website for homeschooling. Although home education students are not required to take End of Course (EOC) exams, if a home education student returns to a public school, the student may be asked to take these tests at that time. If you have any additional questions regarding the EOC, please contact our testing team at [email protected] or visit Test Prep for EOC.
Unique requirements apply to Florida homeschool students who receive a school choice scholarship to receive educational services, including the Gardiner Scholarship (PLSA). Learn more here.
Students are advised to complete any active Florida Virtual School courses prior to end of summer (suggested date: August 1) or semester change date (check with district on date)

A parent must officially withdraw the student from the District Home Education Office
The district homeschool office must release the student from the county homeschool program so the new school can fully enroll the student.

Update the student account to

name of the local school

.

Login to the student account.
On top blue tab click "Student Records", then "Academic Profile".
Change Home Education to the name of the local school, then click Save.

This allows the school to retrieve your final grade transcripts once a class is completed and from older completed courses.
If the student needs to take an online class in the future, they may use this same account.

Register at the local school.
IMPORTANT: Students returning to public school

may choose

to complete any active online class(es). Be sure to

inform the school counselor so the online class is not duplicated on their at-school schedule

.

Order the Florida Virtual School transcript here.
When using the Parchment system to request your Transcript, be sure to select "Florida Virtual School" as the high school transcript you want sent out. Click here to view an instructional video on how to request a transcript.