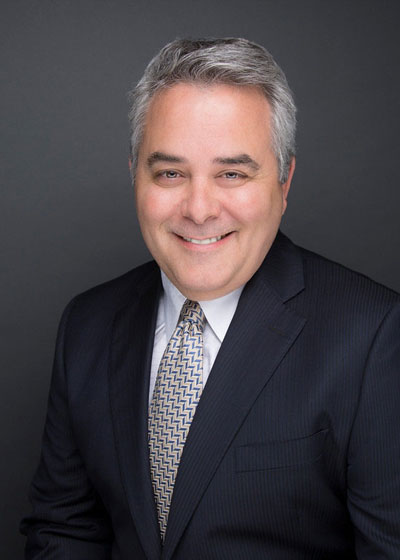 Edward J. Pozzuoli, a Martindale Hubble-rated AV lawyer, is the Chief Executive Officer of Tripp Scott. He is an accomplished litigator and negotiator and has extensive experience handling state, county, and local governmental issues. Mr. Pozzuoli is nationally recognized as a legal expert in charter and educational law.
Mr. Pozzuoli is a regular contributor to Fox News and Forbes, and Florida Trend named him one of its "Florida 500," a list of the most influential. He has also been named to "Super Lawyers" as one of the top lawyers in South Florida. In addition, he has received the Multiple Sclerosis Society's Award of Excellence, the American Diabetes Association's Valor Award, the Republican Party's Spirit of Lincoln Award, and the South Florida Business Journal's Ultimate CEO Award.
A devoted community servant, Mr. Pozzuoli was recently appointed to Senator Marco Rubio's Judicial Advisory Committee. He was the chairman of the National Multiple Sclerosis Society of South Florida and is past chairman of the Republican Party of Broward County. He sits on the Board of Advisors of the Nova Southeastern Law School and was the past vice chair of the board of trustees for the Pine Crest Preparatory School. He also serves as a member of the Florida Tax Watch Florida Board of Trustees. He was a member of the State of Florida Republican Party's executive board, the steering committee of the Fort Lauderdale Chamber of Commerce, and the Fair Campaign and Practices Committee of Broward County. In addition, he has served as a director of the University of Miami National Alumni Association and currently serves as a member of the Florida Virtual School Board of Trustees.
Mr. Pozzuoli holds a law degree and a bachelor's degree from the University of Miami, where he was chief of the prestigious Iron Arrow Honor Society and received the Outstanding Young Alumni of the Year award. He has been named to Who's Who in Practicing Attorneys and Outstanding Young Men in America.
Board of Trustees
Florida Virtual School operates under the guidance of a Board of Trustees which consists of seven members appointed by the Governor to 4-year staggered terms, per Florida Statute 1002.37.
Upcoming Meetings
For your convenience FLVS Board meeting agendas are posted prior to the scheduled meeting.
Agenda Workshop - November 14, 2023
Quarterly Meeting - December 12, 2023
Agenda Workshop - February 6, 2024
Quarterly Meeting - March 12, 2024
Agenda Workshop - May, 14, 2024
Quarterly Meeting - June 11, 2024
Past Meeting Minutes
Minutes from past meeting(s) are archived after approval and are available on BoardDocs. Minutes can be viewed on BoardDocs by going to the Meetings tab and clicking on the date of the meeting. Past meetings from October 2020 and later can be viewed on our Board of Trustees YouTube channel.
Agenda Workshop - August 15, 2023
Quarterly Meeting - September 12, 2023
Notice of Rulemaking - September 12, 2023
Board Policies and Bylaws
The Florida Virtual School Board of Trustees policy manual is currently being redeveloped. Once adopted, all new and revised policies and bylaws will be promptly displayed within the appropriate chapter number/section.
The updated Policies of the Florida Virtual School Board of Trustees are located within the Book titled "Policy Manual" (Chapters 1000 through 9000). Those Policies that were adopted prior to June 22, 2021, which remain in effect, are located in the Book titled "FLVS Policies Legacy." The Board Bylaws are located in the Book titled "FLVS Board Bylaws."
The titles and text of all policies and bylaws are searchable within BoardDocs by using the "Search" feature in the upper-left corner.
Contact the Board
Contact the Board Phone: 407-513-3305
Email: [email protected] (Clerk to the Board)
Address: 5422 Carrier Drive, Suite 201Orlando, Florida 32819 (Clerk to the Board)